Regular price
Sale price
$4
Unit price
per
Got questions?
Our friendly specialists here to help. Chat with us now and we'll give you a hand.
View full details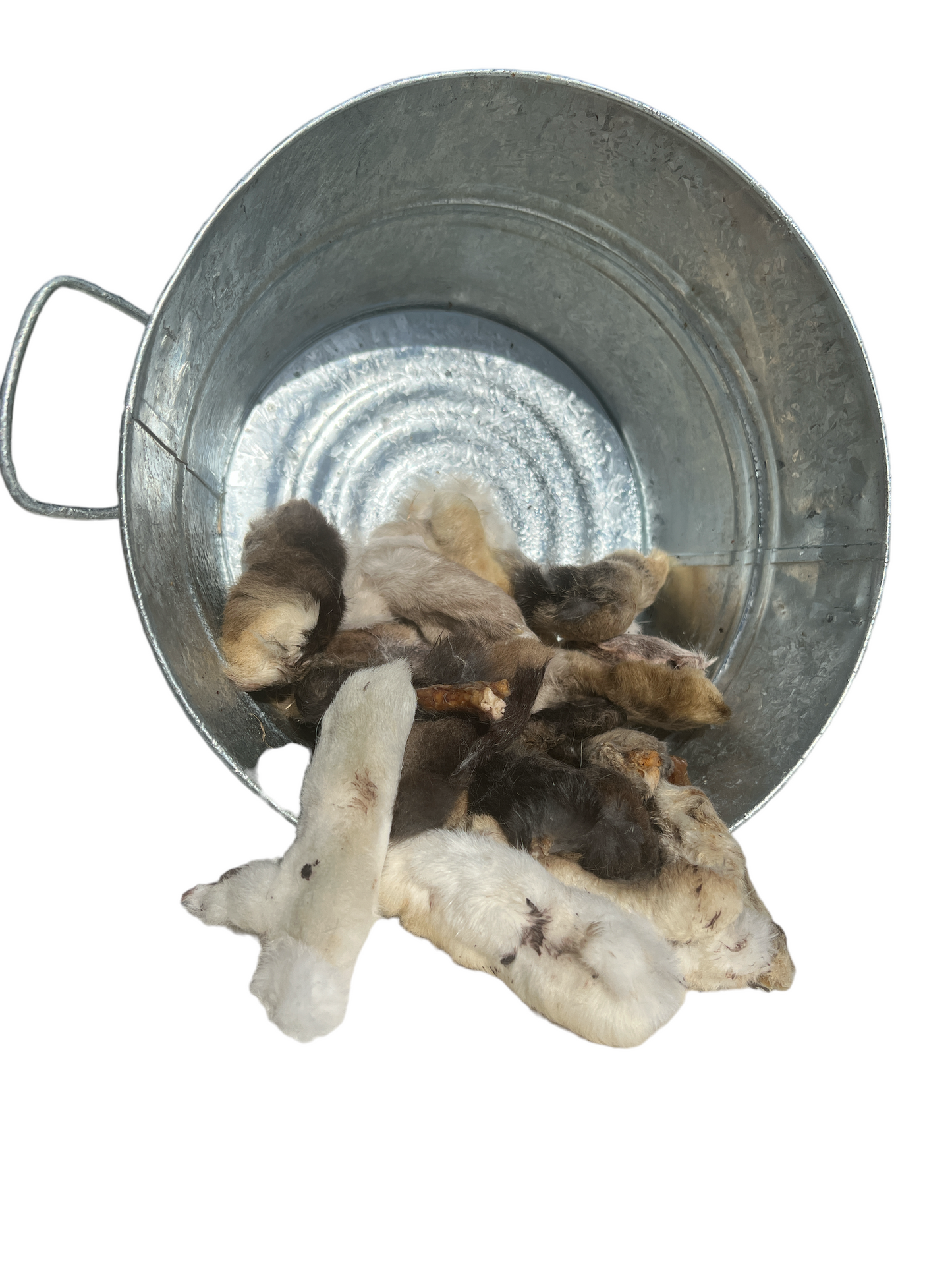 Product Details
Jack's Premium Rabbit Feet are an excellent, special treat for MOST dogs. They can be fed to your dog completely unaltered, with the hair on. We dehydrate our rabbit feet, just like a chicken or duck foot. Rabbit feet are quite difficult to source as they are not mass produced like cows or chickens. As a result, a constant supply can be tricky to find, making rabbit products better suited as a special treat for your dog. 
High-value:

Rabbit feet are high in protein which are a novel protein and hypoallergenic. Therefore, it is suitable for most dogs with food allergies.

Single Ingredient:

 

100% Rabbit Foot, No Grain, No Glycerin, No Preservatives
Just Good Stuff: Our first ingredient is our only ingredient. Slow dehydration allows for tasty, crunchy, and nutritionally dense treat.
Don't Leave Meowt: Good For Cats too!
Benefits of Rabbit Feet
Glucosamine & Chondroitin Natural compounds which are found in connective tissues, ligaments and cartilage. They help improve the health of joints and have been clinically proven to improve pain and weight-bearing in dogs with osteoarthritis. However, if your dog experiences joint pain, joint supplements would be a daily alternative whereas rabbit feet are a special reward.
Selenium Anti-oxidant, boosts your dog's immune system and also plays a role in metabolism processes

Manganese helps reduce inflammation and improves metabolism

Indigestible Fiber Rabbit hair is made up of indigestible fiber. It is believed to play a role in clearing the digestive tract of worms due to the gentle physical abrasion it applies as it passes through. It's important to note two things though; firstly, rabbit hair has not been proven to be as effective as a clinical dewormer, and secondly, since rabbit hair is indigestible, if too much is fed it could cause a blockage.
& More

 Dogs eat an omnivorous diet, but it should contain a large portion of animal proteins. These are used to build DNA, strengthen muscles, and create hormones
All Rabbit is sourced from Blue Ridge Rabbit Meat Co.
Ingredients
100% Rabbit Foot
Frequently Asked Questions
Are rabbit feet good for dogs?

Rabbit feet are loaded with minerals like selenium, manganese, calcium, and glucosamine. These minerals help build a strong immune system and strong muscles. They are high in vitamin B-12 that promotes a dog's central nervous system. The fur also is good for your dog's digestive system by binding to the junk inside their tract to clear it out.
Can dogs eat rabbit fur?

Yes, dogs can eat rabbit fur in moderation. It has a cleansing effect on their digestive system as it binds to debris. 80% of the immune system lives in the gut; an improved digestive system strengthens the immune system. Also, fur helps to bulk up the stool, providing more consistent, solid stools.