Regular price
Sale price
$12
Unit price
per
Got questions?
Our friendly specialists here to help. Chat with us now and we'll give you a hand.
View full details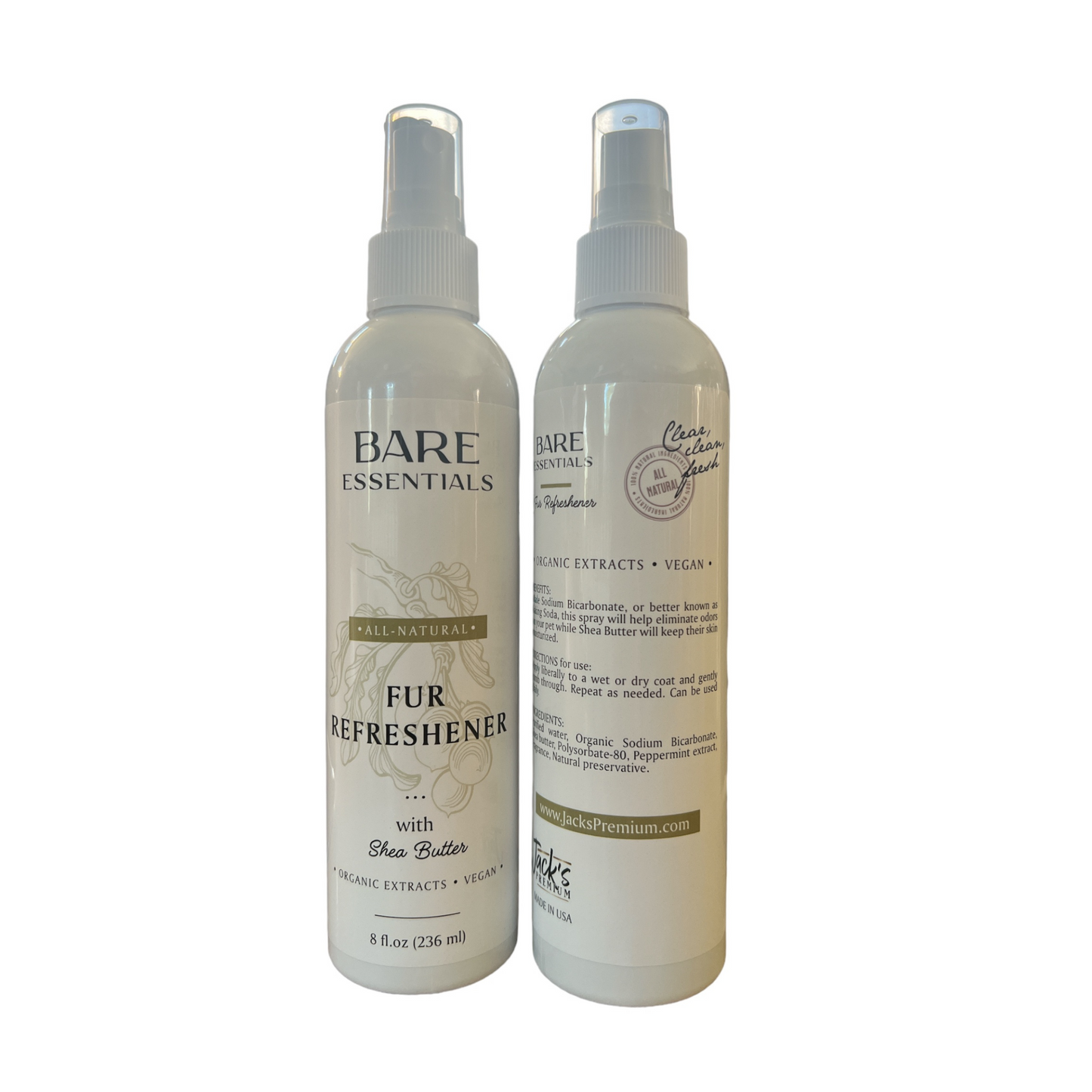 Product Details
Jack's Premium Fur Refresher is made with natural ingredients to give your dog's fur a pleasant aroma in between baths or after a day at the dog park. It has a fresh smell that is not overpowering that will keep your dog smelling great  
Benefits: 
Sodium Bicarbonate, also known as baking soda, is a great natural cleanser and can be used to remove dirt and grime from your dog's fur
Shea Butter soothes, softens, and hydrates skin

. In addition, shea butter is a natural sun protectant and moisturizes and conditions the fur to maintain and boost shine.
Size: 8 oz
Ingredients
Purified water, Organic Sodium Bicarbonate, Shea butter, Polysorbate-80, Peppermint extract, Fragrance, Natural preservative
Frequently Asked Questions
What is the status of my order?

Once you have placed your order, we will send you a confirmation email to track the status of your order.

Once your order is shipped we will send you another email to confirm you the expected delivery date as well as the link to track your order (when the delivery method allows it).

Additionally, you can track the status of your order from your "order history" section on your account page on the website.
Can I change my order?

We can only change orders that have not been processed for shipping yet.Once your order is under the status "preparing for shipping",
"shipping" or "delivered", then we cannot accept any edits to your
order.To make changes to your order, please reach out to support through the helpdesk.
Do you accept returns?

We do accept returns in respect to the following conditions:

The item must have been sold on our online store. The item shouldn't have been used in any way. The return or exchange request is made within 28 days of delivery. The return is made within 14 days of the return or exchange request

To ask for a return, please contact our support using our helpdesk.
Can I exchange an item?

We do accept exchanges and they follow the same conditions as returns

In order to ask for an exchange, please mention that you would like
your item to be exchanged with another item when preparing your return with our support.
Are returns free?

Returns within the US are free. You can refer to the delivery paper within your package to perform organize your return.

Returns from outside of the US are the responsibility of the buyer.

Feel free to contact our support agents through our helpdesk for more details.