Regular price
Sale price
$4
Unit price
per
Got questions?
Our friendly specialists here to help. Chat with us now and we'll give you a hand.
View full details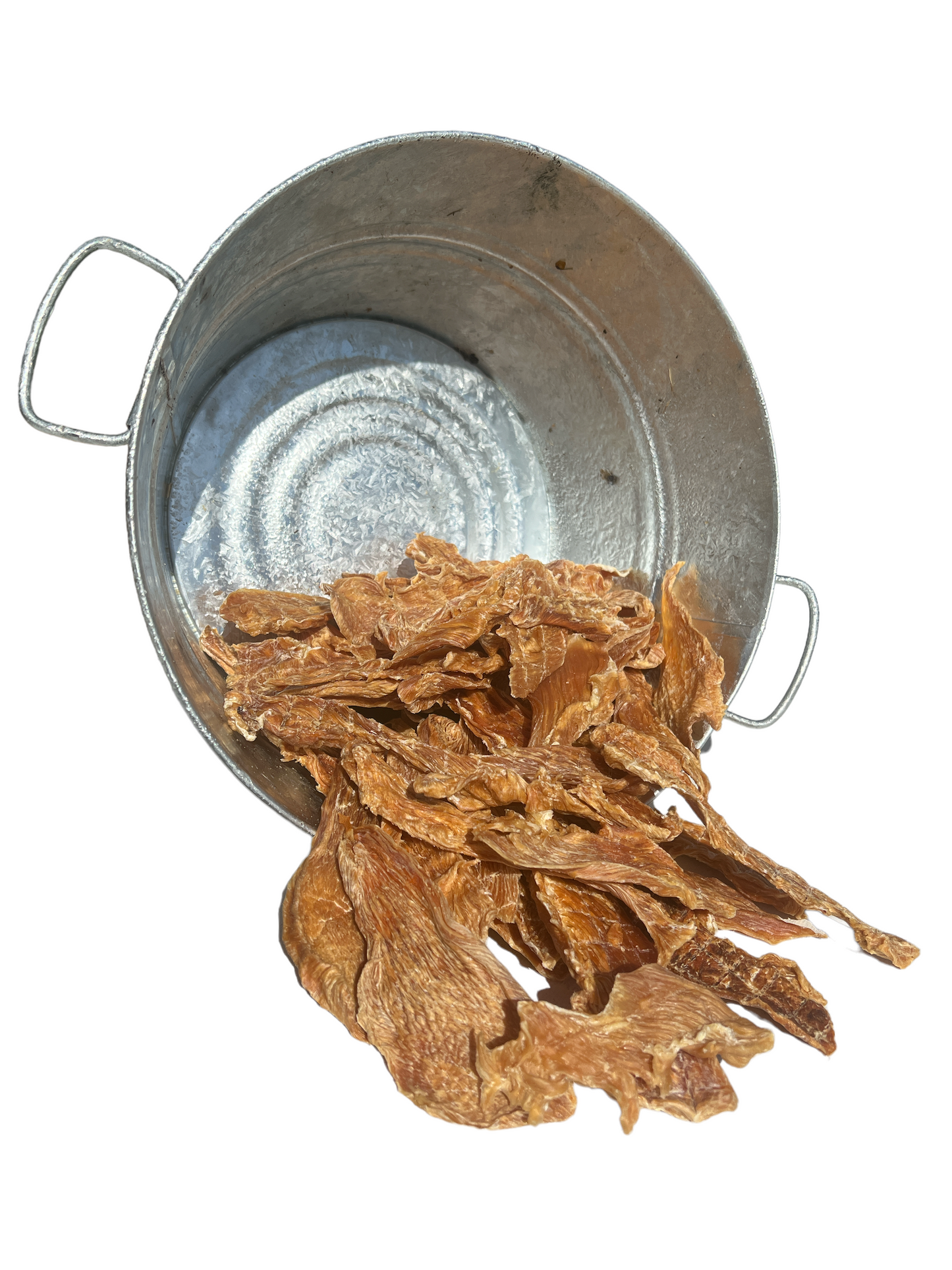 Product Details
Single Ingredient:

 

100% Chicken Breast, No Grain, No Glycerin, No Preservatives
Sourced & Made in USA: We never source our meat from overseas.
Just Good Stuff: Our first ingredient is our only ingredient, 100% Chicken Breast
Benefits of Chicken Jerky:
Unique Dehydration Process: Dehydration is a gentle, low-temperature process, which preserves vitamins and other temperature sensitive nutrients better than baking, cooking or frying. 
High Nutritional Value: Chicken builds lean muscle mass in dogs and delivers Omega 6 fatty acids that help sustain healthy skin and shiny coats. It's also a great source of essential amino acids and glucosamine, which helps promote bone health.
High in Potassium: Improves the health of the nerves, enzymes, and muscles.
High in Vitamin B6: A vitamin 

responsible for

 glucose generation, red blood cell & nervous system function, hormone regulation, immune response, niacin synthesis, and gene activation
Low Fat Treat: Great for dogs on a diet or with sensitive stomachs
Ingredients
100% USDA Chicken Breast
Frequently Asked Questions
Is chicken jerky good for my dog?

Yes, chicken jerky is an excellent treat for dogs when it is sourced properly. Our chicken jerky is sourced from USDA inspected chickens and is made with only one ingredient (no glycerin or milk by-products).
Is chicken jerky safe for my cat?

While most jerkys are not safe for cats due to their high salt content, our chicken jerky is safe for cats. It is just dehyrdated chicken breast. Chicken Breast is an excellent source of protein, Riboflavin, Niacin, Pantothenic acid, Vitamin B12, Iron and Selenium, and is a good source of Thiamine, Vitamin B6, Phosphorus, Zinc and Copper.
How is chicken jerky made?

At Jack's Premium, we source our chickens from USDA inspected farms. We slice the chicken breasts into thin slices and dehydrate using a human grade jerky protocol without preservatives, salts, or glycerin which leaves us with healthy, crunchy, and delicious treat.