Regular price
Sale price
$35
Unit price
per
Got questions?
Our friendly specialists here to help. Chat with us now and we'll give you a hand.
View full details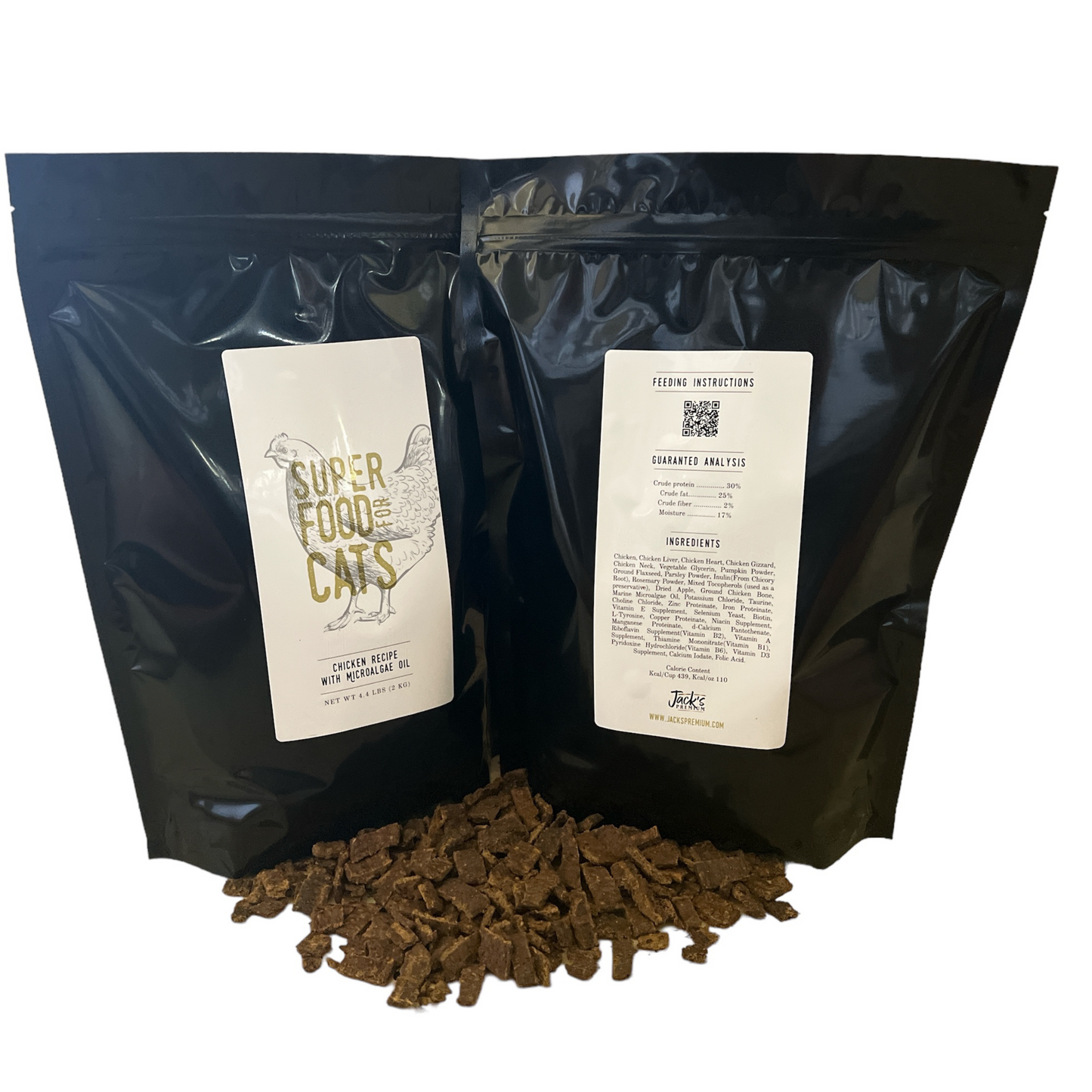 Product Details
Jack's Premium air-dried food is an all-natural recipe cooked low and slow to lock in majority of the of nutrients. This feed is a complete and balanced meal with meat and organs with added vitamins and minerals. It can be fed as sole diet or mixed with any other food for an extra-tasty meal! 
Animal protein is the best source of protein for our cats, and these recipes will help support your dog's overall health, wellness, and longevity. The goodness doesn't stop there - each scoop of food contains carefully selected functional ingredients. No fillers, nasties or artificial additives. It's your cat's delicious, well-balanced nutrition plan in a few convenient scoops. Easy substitute for any raw or frozen diet, easy to serve for pets on the go! No refrigeration needed! 
What makes our air-dried food different?

Not only does it contain liver, heart, and kidney, but it also contains microalgea oil and never any seed oils. Microalgea is a sustainable alternative to fish oils, rich in essential fatty acids, and free of dioxins and polychlorinated biphenyls (PCBs).
Microalgae are a great source of protein, fatty acids, antioxidants, vitamins, minerals, and fiber.
Essential nutrients, such as proteins, fatty acids, antioxidants, vitamins, fiber and minerals (phosphorus, iron, zinc and magnesium, among others).
Superior quality nutrition, as it is a natural product, free of metals, pesticides, microbes and other contaminants.
An improvement in intestinal health: It is proven that microalgae improve intestinal health and activate the immune system of animals.
An improvement in general health, since it increases oral hygiene and the shine and strength of the coat.
For brain development, some microalgae burn macronutrients as a source of DHA (docosahexaenoic acid), which contributes to brain development. Its consumption in puppies, pregnant and lactating animals is essential.
Seed oils are extracted from plants or seeds and contain three types of fat in varying amounts: saturated, monounsaturated and polyunsaturated fats. Seed oil critics have zeroed in on polyunsaturated fats, also known as PUFAs, which contain both omega-3 and omega-6 fatty acids. Omega-3 is critical for heart and brain health. Research has suggested that omega-3 fatty acids may help to decrease the risk of blood clots, improve blood lipid levels, decrease blood pressure, protect against irregular heartbeats and suppress inflammation, thereby supporting brain health and decreasing the risk of some cancers. On the other hand, omega-6 has a murkier reputation. Omega-6 Fatty Acids set the stage for chronic inflammation, which is thought to be at the root of many diseases. While linoleic acid isn't inflammatory itself, the body converts it to arachidonic acid, a building block for inflammatory compounds. Ingesting seed oils worsens the imbalance of fatty acids in the body and thus leads to inflammation. Seed oils are bad for you primarily because of how they're processed and because they're an evolutionary mismatch in our diets. 
BENEFITS OF AIR-DRIED FOOD
Bioavailable Nutrients: Since the majority of the nutrition on our food comes from real, whole ingredients, your pet's body is able to absorb the nutrients and use them to their fullest.
No High Carb Fillers: 

Dogs need a species-appropriate diet with high protein that does not contain insulin-spiking cheap fillers.

Superior Digestibility: Not only is our feed filled with ingredients that keep your dog's digestive tract healthy, but the moisture in the feed allows for the stomach not to bloat as it can with kibble.
Silky Coats: Marine microalgae oil is an anti-inflammatory supplement that contains high levels of fatty acids that are needed to keep your pet's skin healthy and coat shining. 
Resilient Joints: Ground bone contains glucosamine and chondroitin to help maintain healthy joints into your pet's senior years.
Boosted Immunity: The combination of limited ingredients with organ meats in air dried food helps keep your pet healthy and happy.
Consistent Poops: 

Inulin is

 

a fermentable prebiotic fiber beneficial for a healthy gut microbiome. Inulin combined with pumpkin and apple are good for your cat's digestion preventing diarrhea and constipation.   
Ingredients
Chicken, Chicken Liver, Chicken Heart, Chicken Gizzard, Chicken Neck, Vegetable Glycerin, Pumpkin Powder, Ground Flaxseed, Parsley Powder, Inulin(From Chicory Root), Rosemary Powder, Mixed Tocopherols (used as a preservative), Dried Apple, Ground Chicken Bone, Marine Microalgae Oil, Potassium Chloride, Taurine, Choline Chloride, Zinc Proteinate, Iron Proteinate, Vitamin E Supplement, Selenium Yeast, Biotin, L-Tyrosine, Copper Proteinate, Niacin Supplement, Manganese Proteinate, d-Calcium Pantothenate, Riboflavin Supplement(Vitamin B2), Vitamin A Supplement, Thiamine Mononitrate(Vitamin B1), Pyridoxine Hydrochloride(Vitamin B6), Vitamin D3 Supplement, Calcium Iodate, Folic Acid
Nutrition
Calories
439 Kcal/cup 110 Kcal/oz
Frequently Asked Questions
Is air-dried food good for my dog?

Yes! Because air drying doesn't damage the proteins and other naturally occurring nutrients in the ingredients, it's able to remain a healthy, transparent, and safe option to feed to any dog. Just a few of the health advantages include: Easier digestibility, boosts immunity, the right amount of macronutrients from real, whole foods, and easy to store.
How is air-dried food made?

Air-dried dog food is made by slowly drying out raw ingredients using only air. This method of food production preserves a high level of nutrients and produces a healthy, shelf-stable product. You can think of air-dried dog food as the middle ground between dehydrated and freeze-dried. Air-dried dog food means that all the moisture is removed from the ingredients through evaporation via the air-drying process but enough moisture remains in the product to make it palatable and not requiring rehydration.
Do I need to add water to this food?

No water is needed to complete this meal. Since this food does have a higher moisture content than traditional kibble and the palatability is greater due to the texture, water is not necessary. We do recommend when feeding any food to add a liquid/moisture such as water, bone broth, or goats' milk. To learn more about adding water to your dog's food, click here.
How do I store air-dried food?

Air dried food can be kept in a cool, dry place such as a pantry or kitchen cabinet. No refrigeration or freezer is necessary.
How long will a bag of food last me?

An unopened bag with last 6 months. Once opened, it should be used within 3 months. The length of time that a bag will last your pet depends on their weight and activity level. Please visit our feeding guide to help determine how long a bag will last you and your pet.
Why is air dried food more expensive than kibble?

Air dried food is more nutritionally dense than kibble meaning you will need to feed less than the traditional amount. The ingredients that go into this feed are much higher quality and there are no fillers to bring that cost down. Feeding quality food is a form of preventative medicine. You are giving your pet improved nutrition that will positively impact their overall health and well-being. There are a lot of good ways to feed your pet and we know that some dogs can live well past their expectancy eating traditional kibble; even our Jack lived to be 17 years eating kibble. There is no perfect way to feed your pet, but we can always try to give them the best possible options.
Where is your food sourced and made?

Our feed is made in California in a USDA inspected facility. Most of the ingredients are sourced in the USA with the exception of the Venison and Lamb are from New Zealand. The chicken and beef our sourced in the USA from farms that do not use hormones and antibiotics.
What is vegetable glycerin and why is it used?

Vegetable glycerin is made by heating triglyceride-rich vegetable fats like soybean, coconut, or palm oils under pressure with an alkaline catalyst and water in a process called hydrolysis. Hydrolysis causes the glycerin to split away from the fatty acids and mix with the water. Then the mixture is distilled to create the syrupy, sweet glycerol that is 99.7% pure vegetable glycerin. The American Chemistry Council defines vegetable glycerin as a sugar alcohol—a carbohydrate with a chemical structure similar to sugar. There is no actual alcohol or sugar in sugar alcohols. It is beneficial to add into a diet as it can help with digestion and adding moisture to the feed which in turns helps your pet's skin. The vegetable and coconut glycerin that we use is not a byproduct of biodiesel production, rather a naturally extracted product. IT is ethically and sustainably sourced.
How do you prevent bacterial growth in your products?

Prior to cooking the meat, it is kept frozen, until it is placed into the dehydrators. While in the dehydrators, the meat is brought up to a temperature for a prolonged period of time. This process is sufficient to eliminate salmonella, e. coli, etc. While some moisture is retained, it is reduced toa level where bacterial and microbial growth are prevented before packaging. An oxygen absorber is placed in the packaging to keep the food fresh.
My dog accidentally ate the oxygen absorber, will they be ok?

They are safe and if eaten and are nontoxic. It is just iron inside; it will pass with maybe a little constipation.