Regular price
Sale price
$1
Unit price
per
Got questions?
Our friendly specialists here to help. Chat with us now and we'll give you a hand.
View full details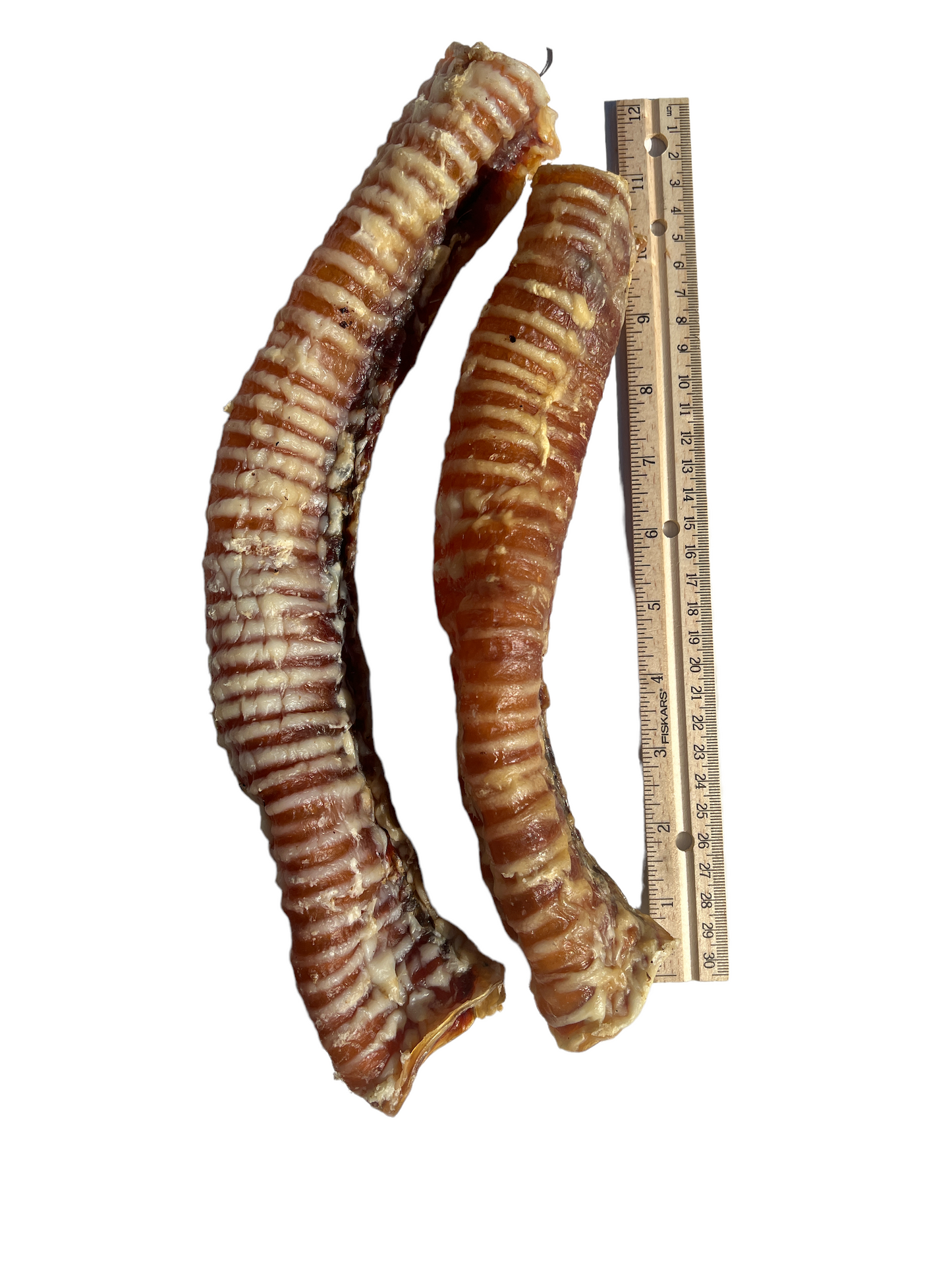 Product Details
Jack's Premium beef trachea are a great chew to provide to your dog. While they are not as long lasting as other natural chews, they provide many health benefits. We source all our tracheas from USA small farm cattle, not feeder stock. Our tracheas are slow smoked using our unique smoking process. We never add any chemicals, preservatives, or liquid smoke to our treats.
Benefits of Trachea for Dogs: 
Good for Dental Hygiene- Chewing promotes healthy gums and reduces tartar and plaque buildup.
Provides Mental Stimulation- Chewing keeps dogs entertained and fights boredom
Promotes Healthy Joints- Trachea is a natural source of chondroitin, glucosamine, and collagen which our needed to keep joints healthy
Low Fat Natural Chew
All Life Stage Dog Chew: A great treat well suited for puppies and senior dogs
Rawhide Free Chew: Trachea contains only cartilage and meat.
Bone Free: Trachea is not a bone; it is the windpipe made up of cartilage and meat.
Ingredients
100% USDA Beef Trachea
Frequently Asked Questions
How long does a beef trachea last for a dog?

This depends on your dog. A beef trachea is a little bit softer and hollow, so they are not long lasting. Most dogs will go through a trachea in about 30 minutes.
Why should I give my dog beef trachea?

Beef trachea is a single ingredient, bone-free chew that is high in glucosamine and chondroitin. It is also low in fat, so it is good for dogs that have sensitive stomachs or are on a low-fat diet.
Are trachea chews for safe for puppies?

Beef tracheas are a great chew to give to your puppy. They're soft yet durable, digestible, and healthy. Trachea is soft enough not to damage your pup's teeth but durable enough that it can't break off into pieces that could be a choking hazard. Trachea is also 100% digestible, so there's no risk of obstruction if pieces of the chews are swallowed.